What is the Purpose of My Life?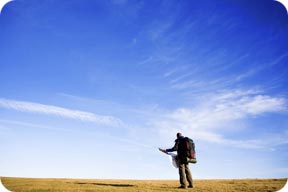 Discovering Your Purpose In Life
Like most people, you may have wondered why you are here on Earth. Do you think your existence is an accident or are you here for a reason? Is there some purpose for your life? According to the Bible, you are not a mistake and you were created by God for a reason.
What Are You Living For?
Most people seem to believe that the main purpose of life is enjoyment and personal fulfillment. Are you living for things such as money, fame, success, fun, possessions and power? The wise King Solomon accomplished many great things and had all that anyone could desire, yet described it all as meaningless (Ecclesiastes 1:2). How about you? Are you more consumed with the pleasures of life than what happens to your soul when you die? The Bible says "For what will it profit a man if he gains the whole world, and loses his own soul" (Mark 8:36)?
Life Is Short Compared To Eternity
Hopefully, you would agree that what happens to you eternally is far more important than what happens to you on Earth. Think about the word eternity. That is far beyond trillions and trillions times longer than our earthly life. It is so hard to even comprehend that concept because it never ends. You may have a great life or a terrible life on Earth, but either way it will come to an end someday. Then, you will spend everlasting life in either Heaven or Hell (Matthew 25:46). Please think carefully about where you will go after you die as it can happen any day.
The Problem
Too many people assume they will go to Heaven when they die based on their own concept of God. The reason why people can't spend eternity in Heaven is because sin separates people from God (Isaiah 59:2). You have rebelled against God and committed a sin every time you broke one of God's commandments by stealing something, telling a lie, hating somebody, disobeying your parents, having a lustful thought, or countless other things. God hates sin and will severely judge each and every one of your sins. Just being a good person or believing in God won't erase your sin either. The Bible says that "the wages of sin is death" (Romans 6:23).
The Good News
The good news is that no matter how severe your sins are, God made a way to be forgiven and be declared innocent on judgment day. "But God demonstrates His own love for us in this: While we were still sinners, Christ died for us" (Romans 5:8). Being a good person or being religious won't rescue you from your sin. "For it is by grace you have been saved, through faith--and this not from yourselves, it is the gift of God--not by works, so that no one can boast." (Ephesians 2:8-9) The word grace means "undeserved favor". Your sin separated you from a perfect and sinless God, but Jesus died on the cross to pay for your sins and later rose back to life (Matthew 28:5-6) so you can have everlasting life in Heaven. Even though none of us deserve Heaven, God was kind enough to save some people.
Two Eternal Paths
Some people are chosen for God to go to Heaven (Ephesians 1:5) while others are destined for destruction (Romans 9:22). His desire is for every person to be saved from their sin and Hell and to spend eternity with Him in Heaven (2 Peter 3:9). Unfortunately, most people follow the path that leads to destruction (Matthew 7:13).
Receiving Forgiveness
It is not enough to just believe that Jesus died for your sins. You must personally trust in Jesus to save you from the penalty of your sin (Romans 8:1-4). You must also be willing to repent (turn from) your sin (Luke 13:5) and follow Jesus as Lord of your life (Romans 10:9-10). Doing this mends your broken relationship with God and allows you access into Heaven.
Live For God
You were created to know God and to live for Him. That is why you exist. Only then does your life have the meaning and purpose God intended for you. "So whether you eat or drink or whatever you do, do it all for the glory of God" (1 Corinthians 10:31). To live your life for the glory of God means that you will love, obey, worship, please, and trust Him. This should not be a burden, but a pleasure because of what He has done for you.
Today is the Day
You never know how much time you have left on this Earth and nothing is more important than where you spend eternity. After you die, it will be too late. Hopefully, today is the day of your salvation and you will live to glorify God.
Tweet
---
Related Questions
How can I be saved?
Am I good enough to get into Heaven?
How can I know God?