How can I know God?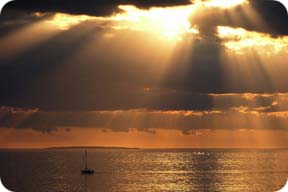 Knowing Your Creator
Do you think it is possible to know the God who created you? In order to know God, you must see what the Bible (God's Word) tells us all about Him. Otherwise, you are creating your own God based on your own understanding. The Bible show you how to know God in more than just an intellectual way, but also in a personal way.
God Knows You
God already knows everything about you (Psalm 139). He either knows you as his child or His enemy (Romans 5:10). We are born into this world as enemies separated from God due to our sin.
Separated From God
The reason why many people don't know God in the way we were intended to know Him is because our sin separates us from God (Isaiah 59:2). He loves us as His creation (John 3:16), but hates our sin (Proverbs 6:16-19). God does not exist to pamper us and give us everything we want. He is righteous (Deuteronomy 32:4) and holy and will judge (2 Timothy 4:1-10) our sin severely. Think about how many times you broke God's laws. You will be responsible for every time you didn't put God first in your life, used God's name in a careless way, didn't honor your parents, hated another person, had a lustful thought, stole anything, and told a lie (Exodus 20). These are some of the 10 commandments that God set as rules for us to live by.
Guilty Of Breaking God's Law
If you are honest, you will probably admit to committing lots of sins in your life. We have a conscience and know when we do wrong (Romans 2:14-16). God will judge your sins severely and just saying that you are sorry is not enough. If you were a criminal in court, the judge would penalize you for your crime no matter how sorry you were. Imagine standing before a holy and perfect God with countless infractions. Each of us falls short of God's desire for us to be sinless and has resulted in a broken relationship with God (Romans 3:23). The result of our rebellion (Romans 6:23) against God is eternity apart from Him (2 Thessalonians 1:8-9) in a real place called Hell (Matthew 10:28). Because of how severe sin is, we can't be allowed into Heaven with a holy and sinless God no matter how good we are.
The Good News
The good news is that God has provided a way for you to know Him and restore your relationship with Him. According to the Bible, the only way to know God is through Jesus Christ (1 Peter 3:18). We can't know God without knowing Jesus (John 8:19). Jesus doesn't claim to be one of many ways, but the only way to God. Jesus said, "I am the way, the truth, and the life; no one comes to the Father, but through me'" (John 14:6). God loves us even though we do so many wrong things. "But God demonstrates His own love toward us, in that while we were yet sinners, Christ died for us" (Romans 5:8). Jesus came to earth and lived a perfect sinless life and willingly accepted the penalty for our sins (1 Peter 2:21-24) He received the punishment that we deserved so we could be forgiven. After Jesus died, He rose three days later from the grave totally alive (John 20:25-28) and later went up to Heaven (Acts 1:9-11).
Trusting In Jesus
It's not enough to just believe these things are true. You must personally receive (place your trust in) Jesus to be the Lord of your life and trust that He will save you from your sin (no matter how severe). You need to be willing to repent (turn away from your sins) and put your trust in Christ to be forgiven. That is how you get to know God by becoming His child through adoption. "But as many as received Him, to them He gave the right to become children of God, even to those who believe in His name" (John 1:12). God saves people because of His mercy and grace, not by people doing enough good deeds in their life. That is crucial to understand. The Bible says: "For by grace you have been saved through faith; and that not of yourselves, it is the gift of God; not as a result of works, that no one should boast" (Ephesians 2:8-9). Salvation is a gift--not something you earn. God gives that gift to those who He chooses (Ephesians 1:4).
You Could Die Any Day
You don't know when you will die, so please think seriously about where you will spend eternity. We should be so grateful that Jesus died such a brutal death for sinful people. You deserve Hell, but you get to go to Heaven if you are willing to repent from your sins and place your trust in Jesus Christ. He paid the fine for a debt that He didn't owe. How amazing is that?!
Tweet
---
Related Questions
How can I become a Christian?
How can I be saved?
How do I know if God saved me?