Julie's Story: Good Enough for Heaven?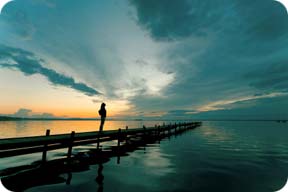 Growing up as a non-practicing Catholic, I believed in God, (the "Big Guy upstairs" kind). I had a mild curiosity in reading the Bible, but no real desire to live a life wholly committed to God. That was a priest or nun's way of life! Regular folks like me, well, we stay busy living in the real world, right? Live I did, chasing after my slice of the American dream. I sampled many of the temptations that came my way. It never really dawned on me that there would be eternal consequences for all of my actions. I assumed I was going to Heaven since I was a good person, generally speaking.
My job allowed me to work alongside a Christian woman. I felt a hunger for knowing what the Bible spoke of, so I would ask her to tell me some of the old stories that were taught to children in Sunday school. I ate up everything she shared. Then she started telling me about prophecy. I studied as much as I could get my hands on, and I was convinced! Since God had predicted the future and I was watching it unfold in my lifetime, He had proven He was real and still active in our lives, in MY life! He alone had words of truth and life! I knew I needed Jesus to save me.
Since that time, I have walked closely, and at times, walked afar from Him. He has been so gracious with me! No matter how I stumbled, He always picked me up again and set my feet back on the path. I am not the same person I used to be. My mind is fixed on things above. I see the world in a new light, and I desire others to see this light, too. I live out my days as best I can, trying to draw closer to God through prayer, reading the Bible and going to church. I don't believe going to church can save anyone. I know I can never be a good enough person to earn my way into Heaven. I am fully trusting in God's promises to save all those who turn from their sins and place their faith in Christ. May my life be pleasing to Him who has bought me with the precious sacrifice of His Son, my Lord and Savior, Jesus Christ!
"...so that you may walk in a manner worthy of the Lord, pleasing Him in all respects, bearing fruit in every good work and increasing in the knowledge of God" (Colossians 1:10)
Tweet
---
Critical Questions
Am I good enough to get into Heaven?
How can I become a Christian?
What is the gospel?